Free Trade Agreements Negotiations
Free Trade Agreements are essential to enhance internationalization of Textile and Clothing companies, to open business opportunities outside the EU, to foster investments, to facilitate imports and to boost our exports. By participating in the negotiations and working with the Commission to remove tariffs and no-tariff barriers to trade, EURATEX aims at making the provisions laid down in Free Trade Agreements the most accurate and fit to the Textile and Clothing sector.
Awareness and Implementation of Free Trade Agreements
EURATEX is well aware of the need to raise awareness among the European companies about the benefits of such trade agreements. Textile and Clothing companies need to be provided with practical and straightforward information, enabling them to use Free Trade Agreements. An interesting example worth mentioning is the entrepreneurs' testimonials, launched by the European Commission in collaboration with EURATEX on the EU-Japan EPA dedicated website.
Market Access Strategy
Trade barriers are impeding European textile & Clothing companies' competitiveness and prevent them on a daily basis to benefit from market opportunities. With the support of the EU Commission Market Access Initiative and in the framework of WTO TBT notifications, EURATEX is striving to lift hurdles and tackle protectionist measures. Unilateral trade regimes and customs rules are vital areas where EURATEX is also active to pre-empt and monitor the situation. Last but not least, EURATEX is continuously working in an open manner with the EU institutions, with other sectors and with its counterparts abroad in order to keep aligned with market globalisation and economic realities.
---
Latest trade agreements' negotiations
EU-Japan Economic Partnership Agreement
At the end of 2018, the EU-Japan Economic Partnership Agreement was approved by the EU institutions, allowing for its entry into force on 1 February 2019. The Textile and Clothing sector accounts for almost 4% of the EU exports in goods to Japan, with nearly €1.9 billion in 2017 of mainly garments and technical textiles. The EU is the biggest trade partner of Japan after its neighbours China, ASEAN and Vietnam. As a result of the discussions held between EURATEX and the JTF (Japanese Textile Federation), the agreement eliminates tariffs as of its first day of implementation and the so-called European "revised PEM rules of origin" apply.
EU-Mercosur Free Trade Agreement
Negotiations for a trade agreement between the EU and Mercosur countries (Argentina, Brazil, Paraguay and Uruguay) are ongoing for more than 15 years. Having reached an 'Industry sectorial agreement' with its Brazilian (ABIT) and Argentinian (FITA) counterparts, EURATEX urges the negotiators to take it on board to conclude talks on Textile and Clothing rules of origin and tariffs dismantling. EURATEX also calls for the swift implementation of the Free Trade Agreement with MERCOSUR, which it believes will open business opportunities, creating jobs and growth for both parties.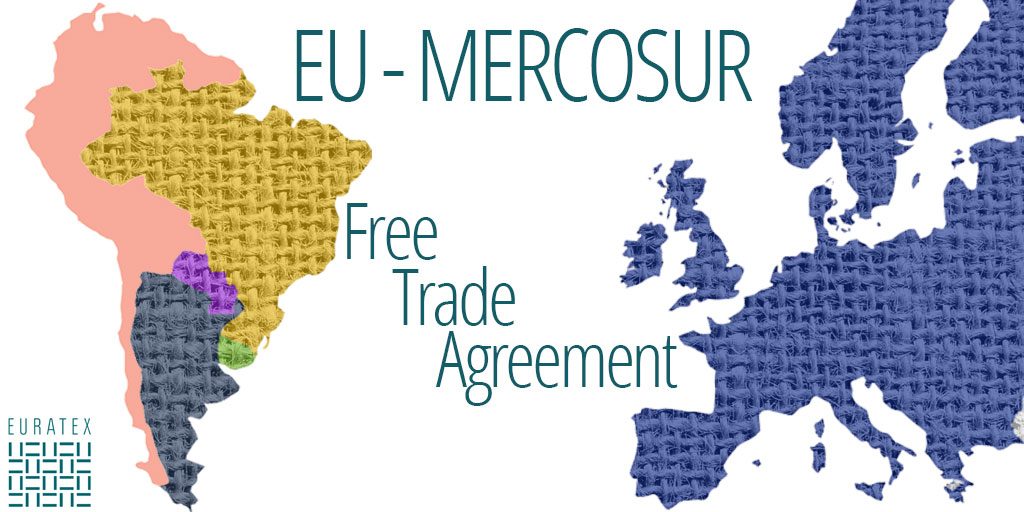 EU/US Trade Negotiations
In July 2018, President Juncker and Trump decided to set up an EU/US Executive Working Group on industrial goods. EURATEX welcomes these talks as a positive opportunity to facilitate trade to the mutual benefit of European and American companies, particularly SMEs. In 2017, extra-EU exports of textile and clothing products reached €48 billion divided into almost equal parts for textile and apparel items. The US is Europe's first customer, with exports having reached €5.6 billion in 2017: €2.6 billion of textiles and €3.0 billion of clothing products, which together represent more than 11% of the total of EU Textile and Clothing exports.
EURATEX stands ready to take an active role in the negotiations, aiming at the total removal of tariffs and non-tariffs trade barriers, cooperation on regulatory issues (specifically on standards for Smart Textiles), and efforts in tackling global unfair practices such as industrial subsidies and overcapacities in man-made fibres.
PANEUROMED Convention on Rules of Origin
EURATEX welcomes the Paneuromed Ministers of Trade's declaration in March 2018 to finalize the negotiations on the PEM Convention on rules of origin. We believe the Euromed zone is of utmost interest for the Textile and Clothing sector, considering the regional and economic integration that both sides of the Mediterranean need to further develop. EURATEX works with the European Commission to bring forward positive solutions in order to complete the modernisation of the PANEUROMED Convention on Rules of Origin.