T&C industry evolution during the third quarter
of 2022 and short-term prospects
Tougher market conditions started to impact T&C activity in the third quarter of 2022.
However, business expectations for the months ahead brightened in the clothing sector,
as respondents have become less negative about the global economy.
Economic performances in the textile & clothing industry showed a mixed picture in the 3rd quarter, as companies are facing tougher market conditions. On a quarter-to-quarter basis, the clothing segment recorded a loss in turnover and production, while textile's turnover showed the slowest growth since the 1st quarter 2021. Export performances were also weaker in textiles, while clothing exports continued to increase at a steep rate. EU imports showed a similar trend, with a fall in textiles and a surge in clothing products. Compared to other indicators, the labour market remained at relatively healthy levels.

The post-pandemic economic recovery in Europe has faded as a result of the Russian invasion of Ukraine. Russia's war on Ukraine and the disruptions in trade caused a rapid deterioration of the economic outlook. It adds to pre-existing inflationary pressures by strongly raising energy- and commodity prices, exacerbates imbalances in supply and demand, and weakens the purchasing power of households. The risk of persistent inflation and stagflation has risen. Although tougher market conditions are starting to impact the T&C business activity, the intensity of the downturn moderated in response to fewer supply constraints and improved expectations about the global economy.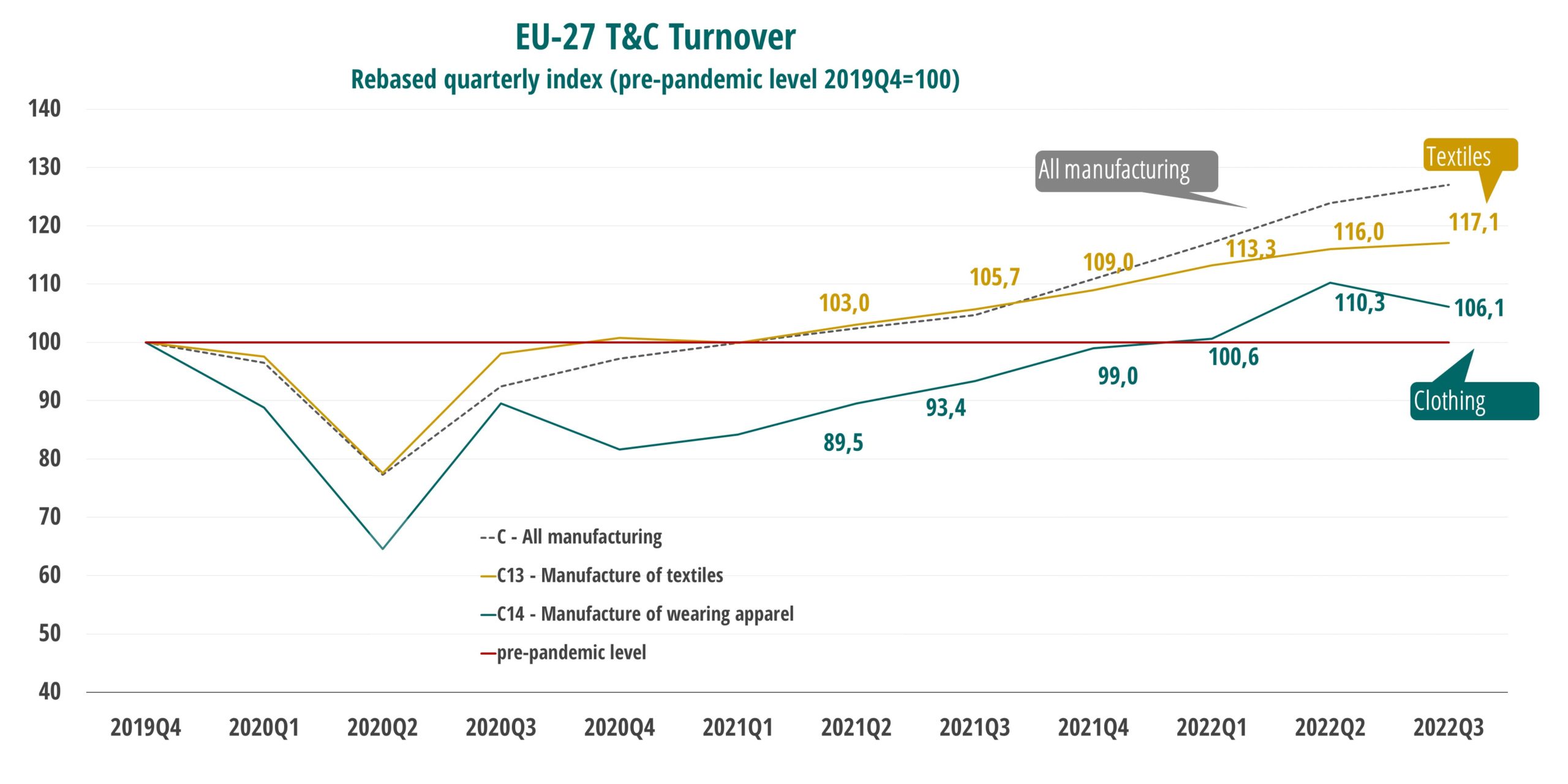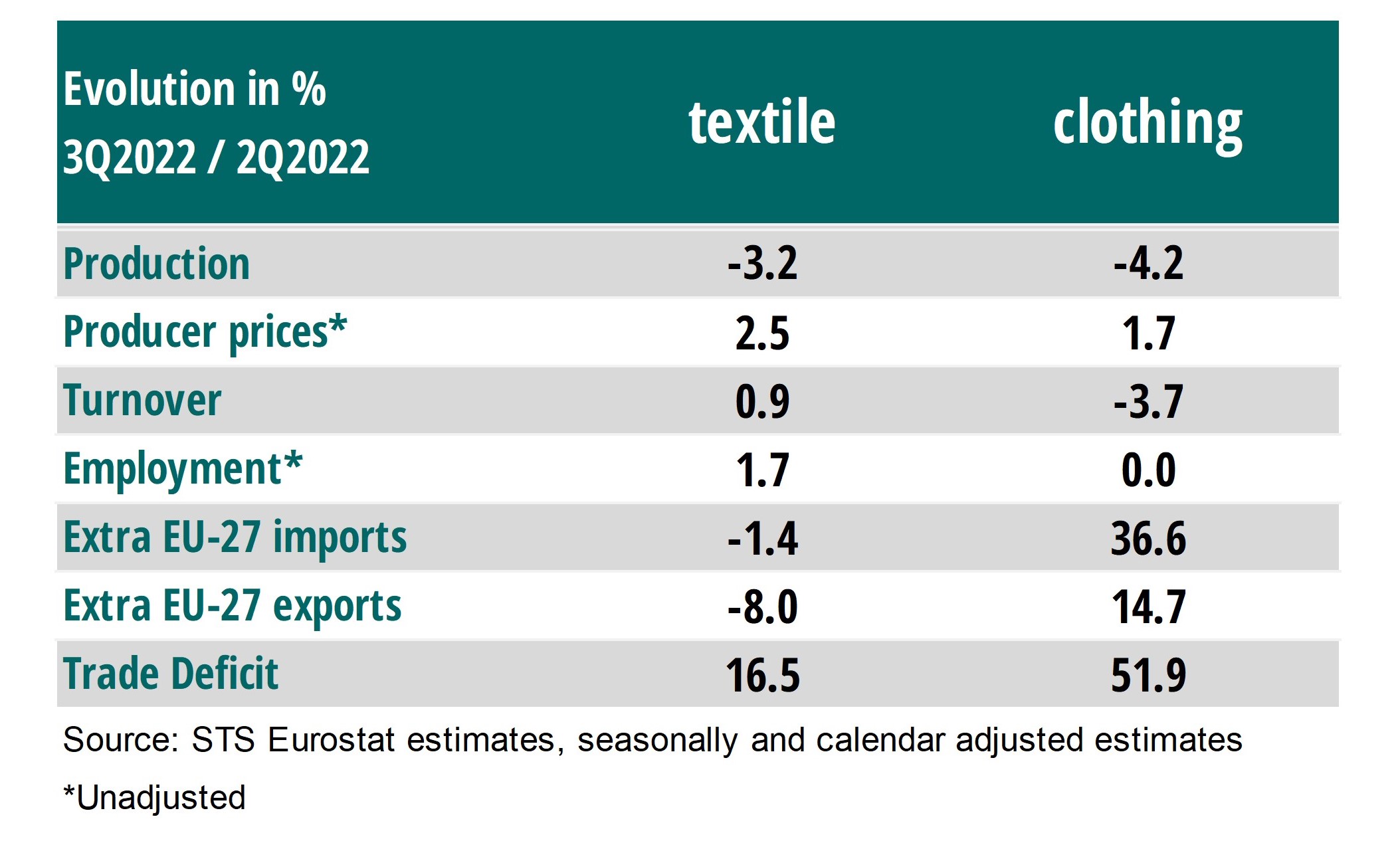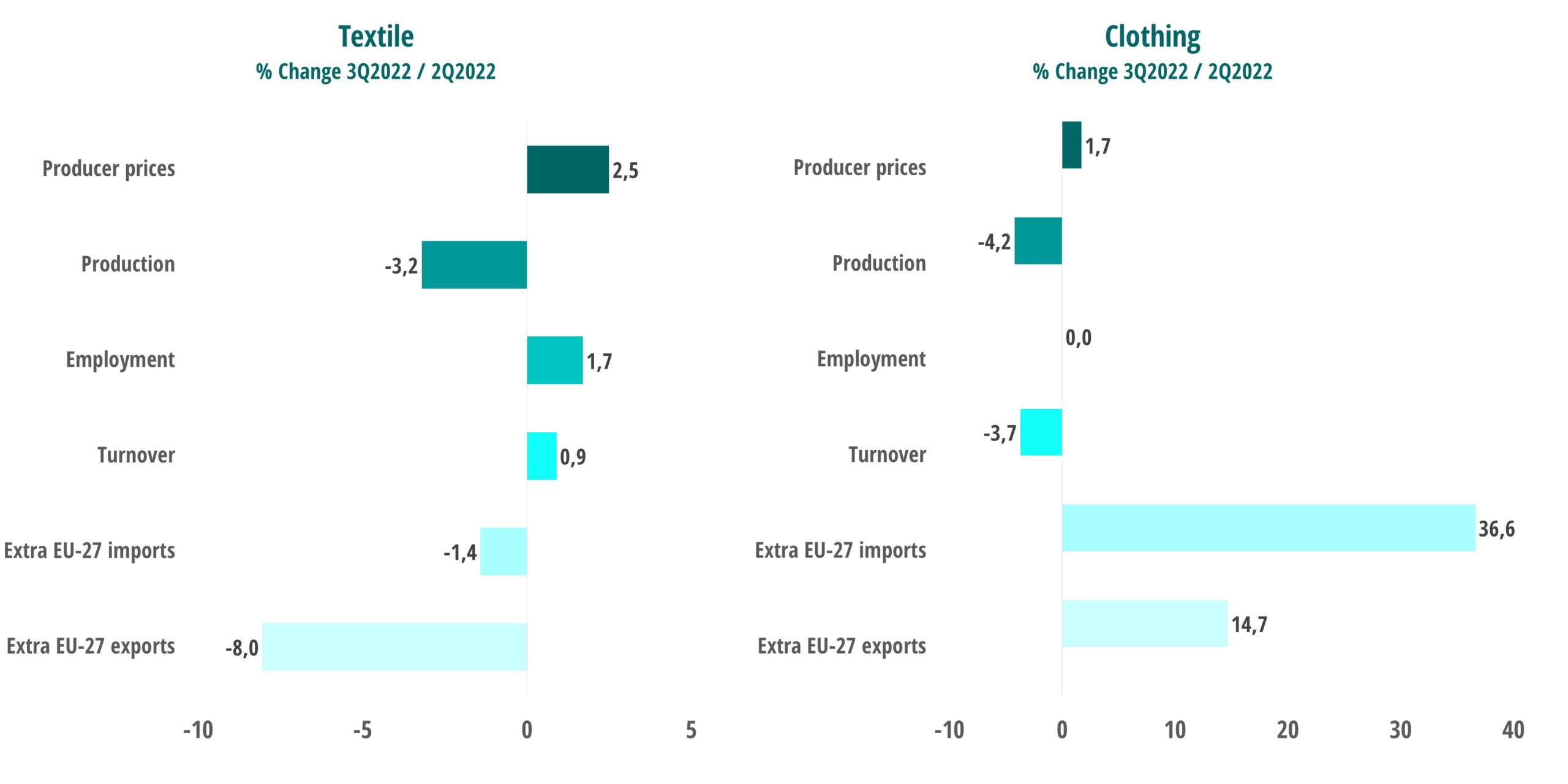 The EU Business Confidence* indicator for the months ahead slightly deteriorated in the textile industry, resulting mainly from managers' more pessimistic views on their production expectations. Business sentiment nevertheless saw a sharp improvement in the clothing sector, due to positive developments in manager's appraisals of the order-book levels, production expectations and in their assessments of the adequacy stocks of finished products.

For more information on our Economic Update, please contact Roberta Adinolfi.
Get

your

copy now!
Keep up to date with the latest facts and figures of the Textile and Clothing sector
by subscribing to the Economic Update!
Click here to fill in the subscription form or contact roberta.adinolfi@euratex.eu.