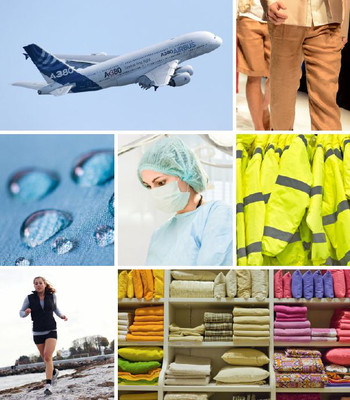 The EU textile and apparel sector is a dynamic highly innovative industry which makes a considerable contribution to other sectors – automotive, medical, personal protection, construction, agriculture, etc.
EURATEX is a part of an extensive network representing European industries which includes the Confederation of European Business (BUSINESSEUROPE) and the Alliance for a Competitive European Industry (ACEI). EURATEX is cooperating daily with the other branch federations linked to our sector, research organisations and universities active in the textile and clothing industry (AUTEX, Textranet), and the Textile and Clothing Information Center (CITH) which provides tailor-made reports on EU trade in textile and clothing.
EURATEX is an observatory Member of CEN, the official European body for standardisation, and follows in particular the works of TC248 technical committee for textiles products.
EURATEX is proud to be a founding member of the European Technology Platform for the Future of Textiles and Clothing – the largest European textile research and innovation experts network, and the International Apparel Federation. We have regular contacts with the other international organisations in our sector: International Textile Manufacturers Federation and International Wool Textile Organisation.
Since 1993, EURATEX is part of the regular Social Dialogue together with the Trade Unions, organised by the European Commission's DG Employment to promote the actions aimed to safeguard the respect of fundamental labour standards.