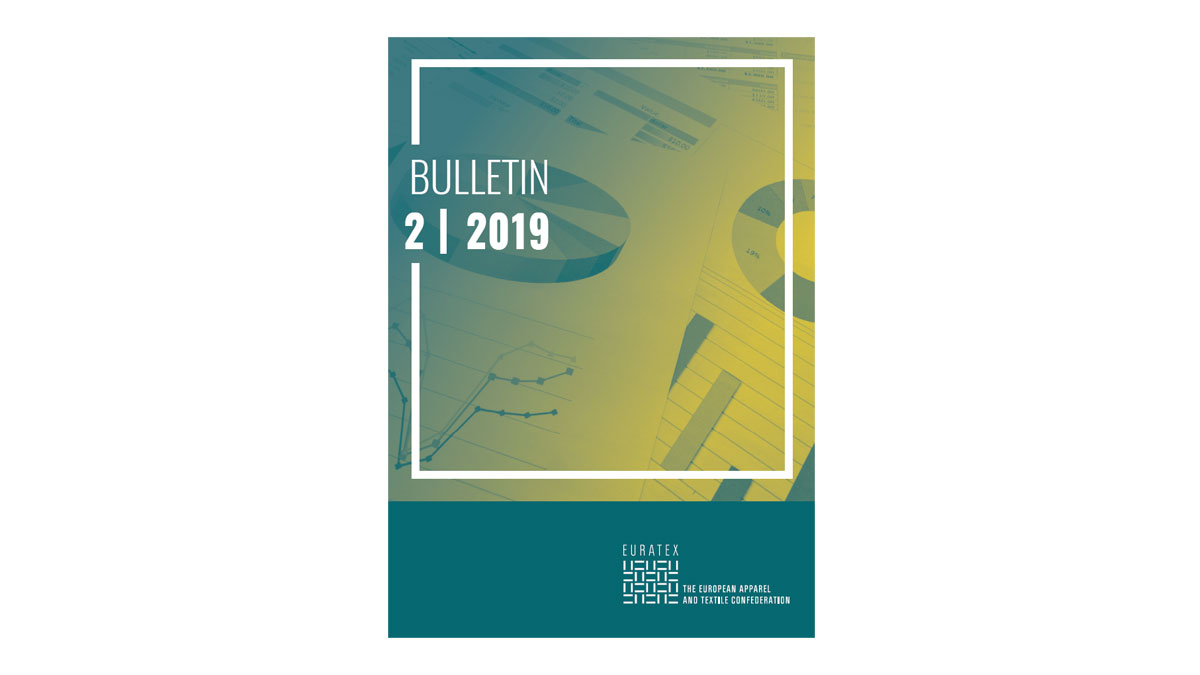 THE BULLETIN PROVIDES AN IN-DEPTH ANALYSIS OF THE EU TEXTILE AND CLOTHING EXTERNAL TRADE IN 2017-2018. IT INCLUDES TRADE EVOLUTION BY SECTOR (I.E. FIBRES, YARNS, FABRICS, CARPETS, TECHNICAL TEXTILES, HOME TEXTILES, WORKWEAR, MEN & WOMENSWEAR), BY PRODUCTS AND BY EU MAIN TRADE PARTNERS.
EU export values hit record levels, thanks to dynamic growth in most product categories
FLAX fibre exports remain a success story
Volumes grew for the second year in a row after a very robust 2017 and, thanks to a renewed interest for this fibre that pushed export prices up again quite strongly, EU exporters enjoyed a double-digit hike of their export turnover in euro. China and India remained the two major buyers of flax in volume terms.
Nearly 2/3 of the textiles exported were technical textiles and woven fabrics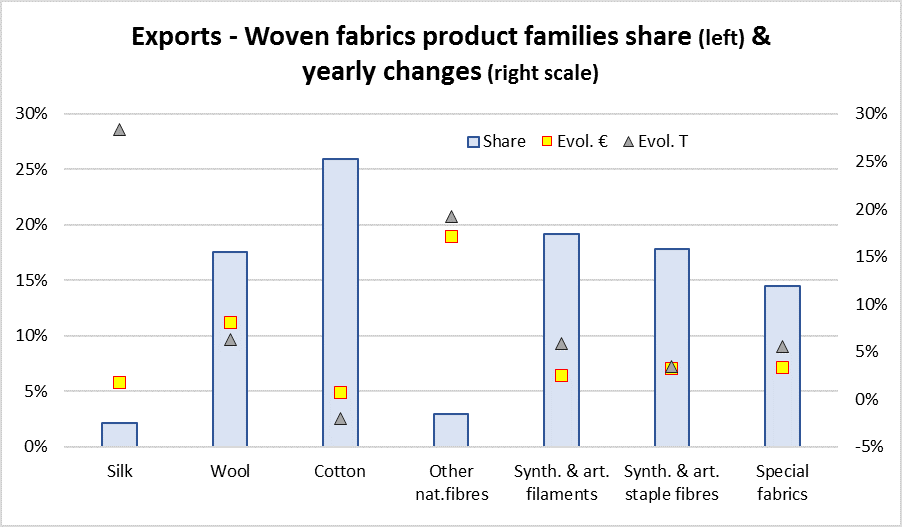 Fabrics made of vegetable fibres (flax, hemp, jute, sisal, coconut) benefitted from a double-digit growth both in values and volumes. Besides, wool fabric exporters managed to reap positive evolutions thanks to the dynamism of the carded wool fabrics exports.
For cotton fabrics exports, accounting for 26% of woven fabrics' global shipments, 2018 was not an exceptional year. Unbleached and denim fabrics saw their exports falling by a double-digit rate. The results of the dyed fabrics were not satisfactory either. The only sub-sector maintaining its position was the one of printed fabrics, thanks to a meagre, but above average, increase in shipments.
Exports of synthetic and artificial filament fabrics, representing slightly more than 19% of fabrics' exports in euro and 28.5% of volumes, progressed in tonnages while the fall in the average price translated into a limited growth in values. Among the man-made staple fibres fabrics, artificial and "other synthetics" fabrics – representing 53% in euro of the exports of this sub-group – recorded the best performances.
Among the special woven fabrics, narrow and pile fabrics benefitted from a sustained growth compared to other fabrics.

Exports of technical textiles (1) outside the EU-28 once again increased year-on-year (+3.4%). Nearly all the main technical textile product categories were in demand. Medical applications dominated – with more than 21% of the total extra-EU 28 technical textiles exports – and were the most dynamic products both in values and volumes. The USA maintained their leading position (21% of purchases in this sector) by increasing the gap with the other competitors.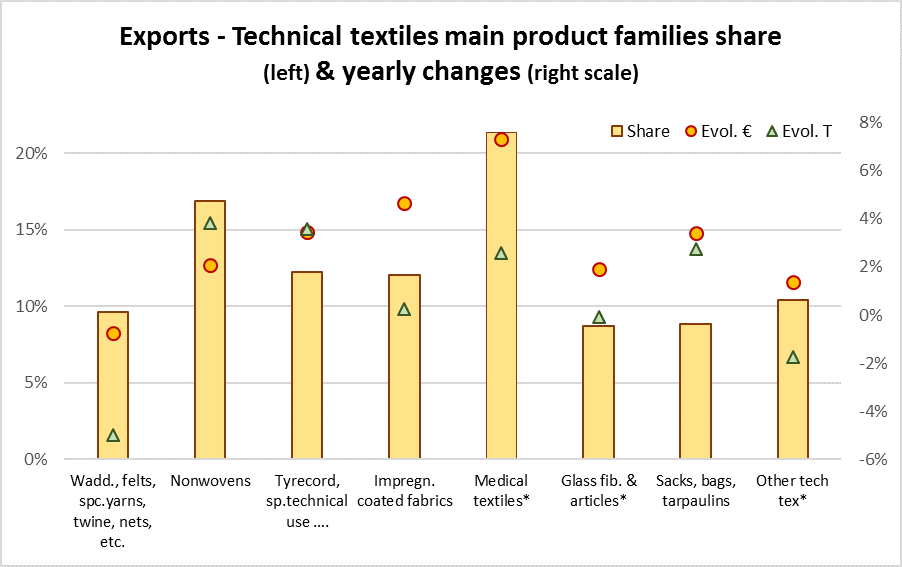 * Other Technical textiles outside HS chapters 50 to 63
As in the previous years, US customers continued to value the quality of various European technical textiles, buying +6.6% more in euro.
Clothing products accounted for more than 52% of total values shipped worldwide and recorded higher growth compared to the upper part of the value chain.
Extra-EU exports of menswear still accounted for 23% of total clothing exports, progressing at a lower path compared to other groupings. However, export performances were among the top four textile and clothing groupings, with exports amounting to €6 bn (+6%). The three major products for export, representing 79% of the category deliveries, were trousers, coats and shirts. Purchases of all three exhibited considerable increases mainly in value.
Exports of womenswear also benefited from global demand and the convenience of online shopping. Mirroring the situation in menswear, extra-EU28 sales increased in value by +7% to €10.7bn. This sector represented 40% of total clothing exports outside the EU. The three major products sold, representing 63% of the category exports, were skirts, dresses, trousers and coats. Purchases of all three displayed considerable increases mainly in volumes.
(1) This wider definition also includes technical textiles outside the traditional Harmonised System chapters relating to textiles (HS 50 to 63), as for i.e. medical textiles, glass fibers as well as sanitary towels and napkins.
---
Find out how to access the full publication or contact roberta.adinolfi@euratex.eu