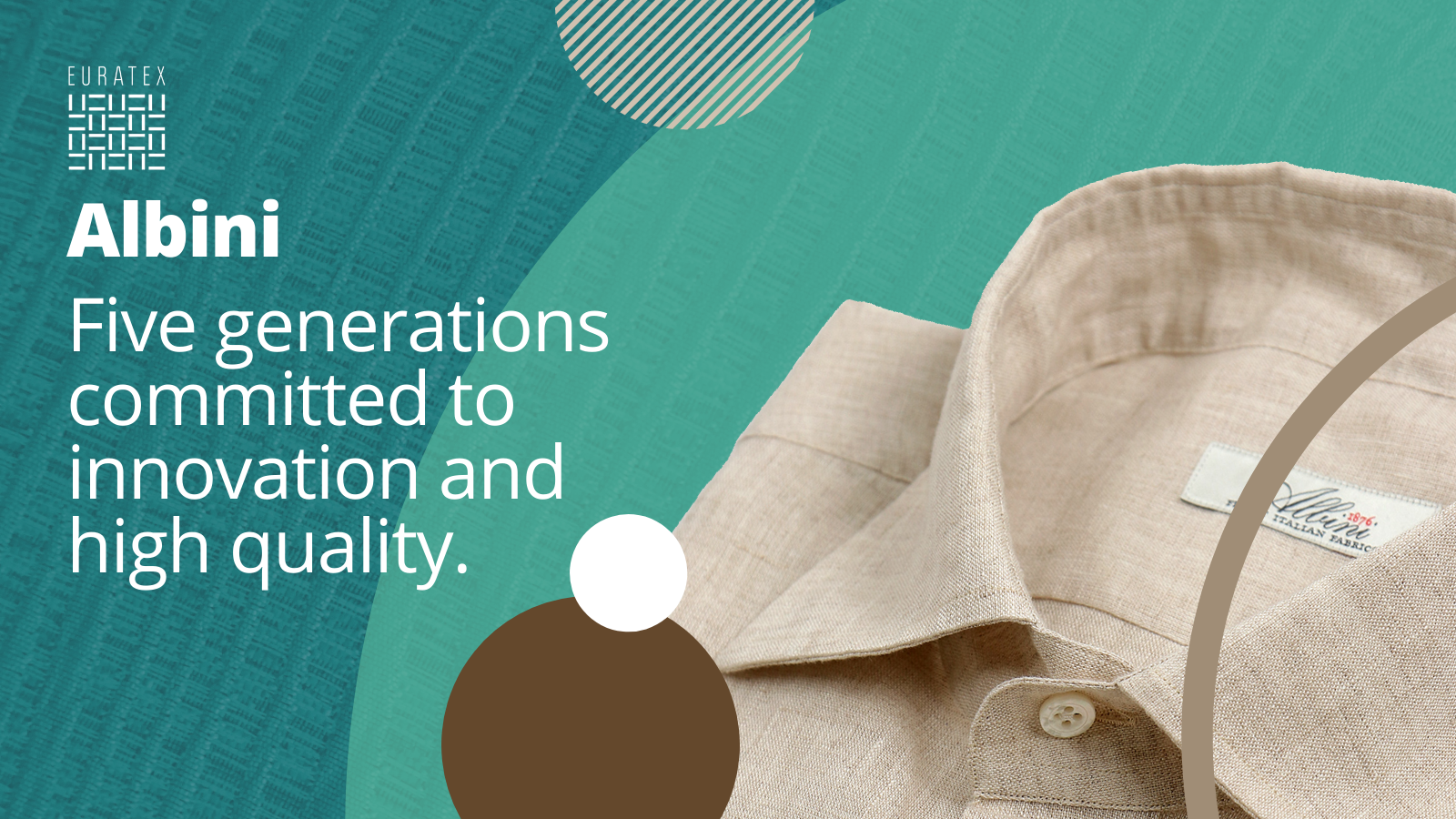 Italy, 05 May 2021 – Five generations of Albini built a company committed to quality, innovation, sustainability and Made in Italy. The Group oversees the whole supply chain: it decided to invest in sustainable processes and materials and launched a digitization process within the company.
Albini Group strives to continue its legacy, built over 140 years ago: creating the most beautiful fabrics in the world, while embracing the culture of quality, innovation, sustainability and Made in Italy excellence.
Founded in 1876 in Albino (Italy), the Albini Group has always been a family business and today it is directed by the fifth generation of Albini family. The Albini Group has its HQ in Italy, three commercial offices, one Innovation Hub e and seven factories all over the world. It operates in more than 80 countries and it is the largest European manufacturer of shirting fabrics.
Business continuity and active presence of the family are the basis for broad vision, success and a guarantee for long-term plans. The Group shows a strong attachment to the product and an ethical commitment, which facilitate the exploration of new markets, without forgetting its roots.
During all these years, Albini Group has pursued a vertical integration strategy. It took complete control of the supply chain and managed all stages of the production process, from raw materials to fabrics. This ensures efficiency, absolute quality, reliable service and allows the Group to innovate in each single phase leading to the creation of a fabric. The Group decide on the cultivation of cotton fields, the choice of different raw materials, through spinning and weaving up to the finishing and the final treatments.
The fabric collections of Albini Group are based on four different brands – Albini 1876, Thomas Mason, Albiate 1830 and Albini Donna. They are all linked together by the Group's DNA: careful selection of the most precious and natural raw materials, attention to detail, excellent textile know-how and manufacturing tradition.
Today, Albini Group continuously invests in the search for new technologies, with a particular attention to digital transformation and sustainability.
In recent years, the Group outlined a precise "digital roadmap", which has led to the creation of a revolutionary platform that will bring all the Group's business areas online.
The Group has also a clear vision on sustainability and is attentive to the development of sustainable processes and materials. Recently, it has given rise to innovative projects such as the exclusive cultivation of a traceable organic cotton (Biofusion®), the use of recycled materials and the development of natural dyes.
In these new stimulating challenges, the Group is supported by ALBINI next, its own Innovation Hub, which is born with the aim of overcoming barriers and tracing new frontiers in the textile industry.
To know more Albini, check the accounts on Instagram, Facebook, LinkedIn and YouTube.