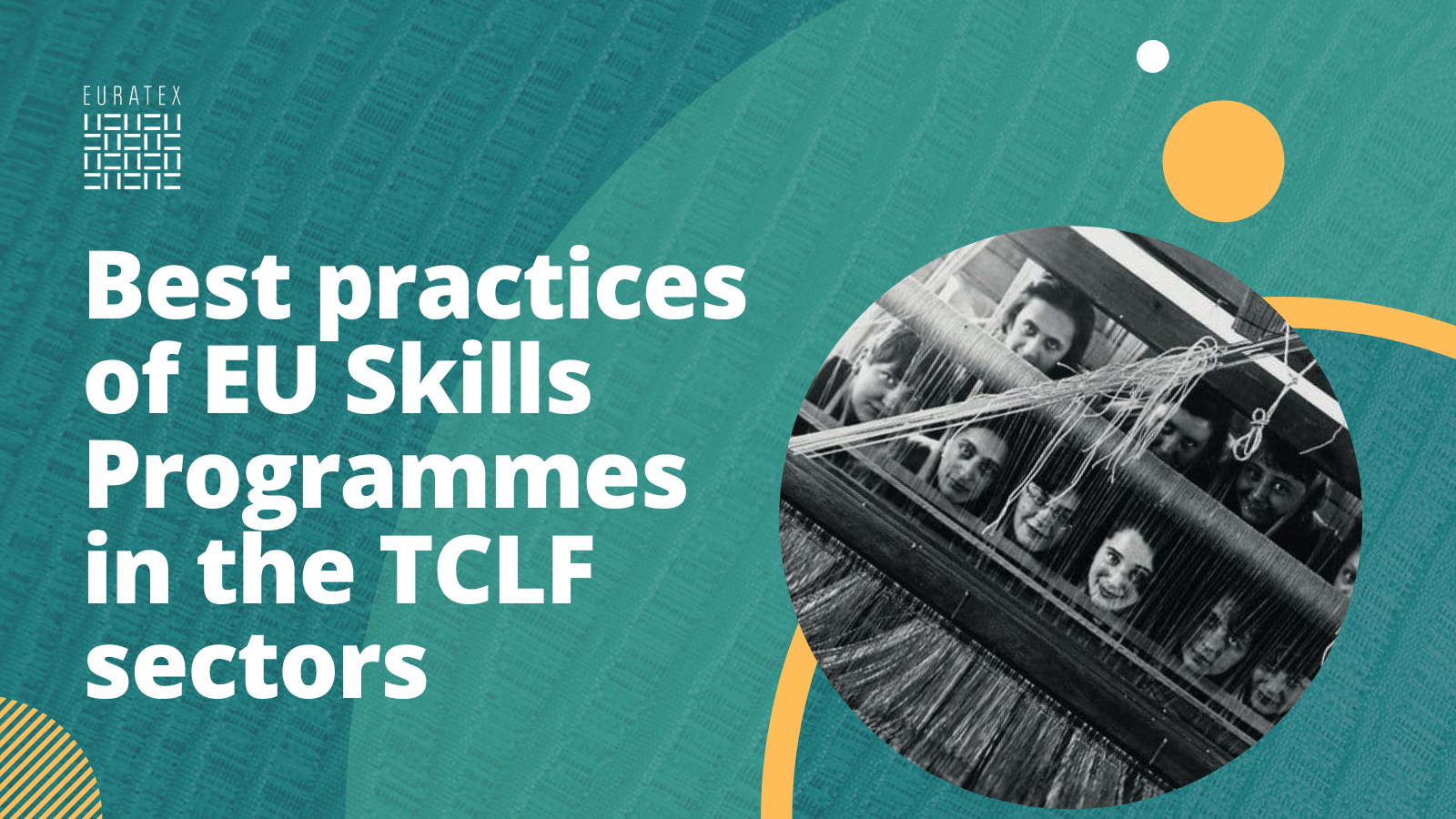 On the occasion of the Pact For Skills Roundtable, we would like to introduce to you ongoing projects carried out by our partners throughout Europe. These are examples of best practices based on the Skills Committee contribution from our members. They all aim at improving knowledge and needs of the industry matched by education.
CURRENT ONGOING PROGRAMMES
BLUEPRINT (Skills4Smart TCLF)
The project "Skills4Smart TCLF Industries 2030" constitutes the first step into a new dynamic sustainable community of diverse private/public actors. These actors are all committed to supporting skills development and employment opportunities across the EU in the Textile, Clothing, Leather, Footwear and Leather Goods sector. Skills are indeed indispensable to innovate and produce high-added-value products.
The project aims to enhance the modernisation and competitiveness of the EU Textile, Clothing, Leather, and Footwear (TCLF) sectors. It will do so through the development of a sustainable upskilling and reskilling strategy, and a communication campaign to attract social, economic, and political actors.
At the moment, the project is testing the curricula for 8 selected job profiles in TCLF, and developing a network of European VET providers. This promising project can evolve in further projects/initiatives, both at EU and national level.
NATIONAL BEST PRACTICES
Recipe for Development, Poland
PRZEPIS NA ROZWÓJ (Recipe for Development), is an initiative developed by PIOT, member of Sektorowa Rada ds. Kompetencji Moda i Innowacyjne Tekstylia (Sectoral Competence Council Fashion and Innovative Textiles).The project aims at analysing the skills needs of the industry in collaboration with companies and other stakeholders. The analysis is later translated into a set of recommendations for the industry, promotional activities, and financial support for up and reskilling activities in Poland.
Currently, the project is upskilling 1 000 people by covering up to 80% of the costs of the training. The main targets are SMEs, workers over the age of 50 (first round), low qualified (second round) and everyone else, no matter their age and education level (third round). The programme is mainly dedicated to technologists, CAD designers, machine operators and management/supporting employees. The budget for this project is around 1,5 mln euros.
Unitex, France
Unitex is the most important regional textile trade organisation in France, federating and representing all activities in the sector. It includes yarn processing, weaving, and knitting. Their member companies are present in all markets, from fashion and decoration, to technical textiles. Unitex is a member of French Tex, a portal that lists and categorises job offers, initial and further training in the textile industry at a national level. Opportunities are proposed, whatever the level of training or the candidate.
OPCO2i, France
OPCO2i is the French State organism or national observatory for industry skills and professional training. The objective of OPCO2i is to respond to the challenge of the national industries to secure recruitment and employment ,as well as to upskill and reskill the existing workforce. Thus, it aims at supporting the performance of companies, pooling and boosting employment, training, and apprenticeship strategies. It also tries to provide a local service that is as close as possible to the needs of the companies and their employees with the establishment of 12 regional delegations.
Professional Training by Dual System, Romania
In 2020, Romanian Authority for Professional Training by Dual System has elaborated a national strategy, where reskilling and upskilling the workers are included.
As part of the national curriculum, VET schools have the opportunity to organise courses based on requests from industrial partners (companies) in the region, where the school is located. For the TCLF industries, there are 2 EU funded projects on this topic, with the collaboration of the Universidad Técnica Gheorghe Asachi de Iași, Romania and the University of Bremen, Germany:
Developing innovative and attractive CVET programmes in industrial shoe production. The first project aims at developing, piloting, and implementing comprehensive courses, facilitating the opening of new career opportunities in terms of Continuous Vocational Education and Training (CVET): https://dia-cvet.eu/
Go textile!, Germany
Go textile! Gives first-time-employees (eg. Pupils and students) access to jobs in the textile industry – from medical research to architecture and fashion. It makes the industry more accessible, and the program even supports questions around work contracts, supply chain, and company culture. It's a partnership between Textil & Mode and the German government.
UPCOMING PROGRAMMES
Pact for Skills
The Pact for Skills is also trying to identify what kind of priorities we should establish, in other words, which should be the political priorities in terms of upskilling and reskilling. The first step was to consult TCLF members and companies through a survey.
Best Practices mentioned in the survey:
Sectoral Competence Council Fashion and Innovative Textiles (Poland)
Portuguese Leather InDesign project (ptleatherindesign.com)
In Portugal there is a Programme called "Qualifica" to foster training and qualification of adults in order to reduce unemployment and to increase upskilling (https://www.qualifica.gov.pt/)
If you want to know more, read our report.