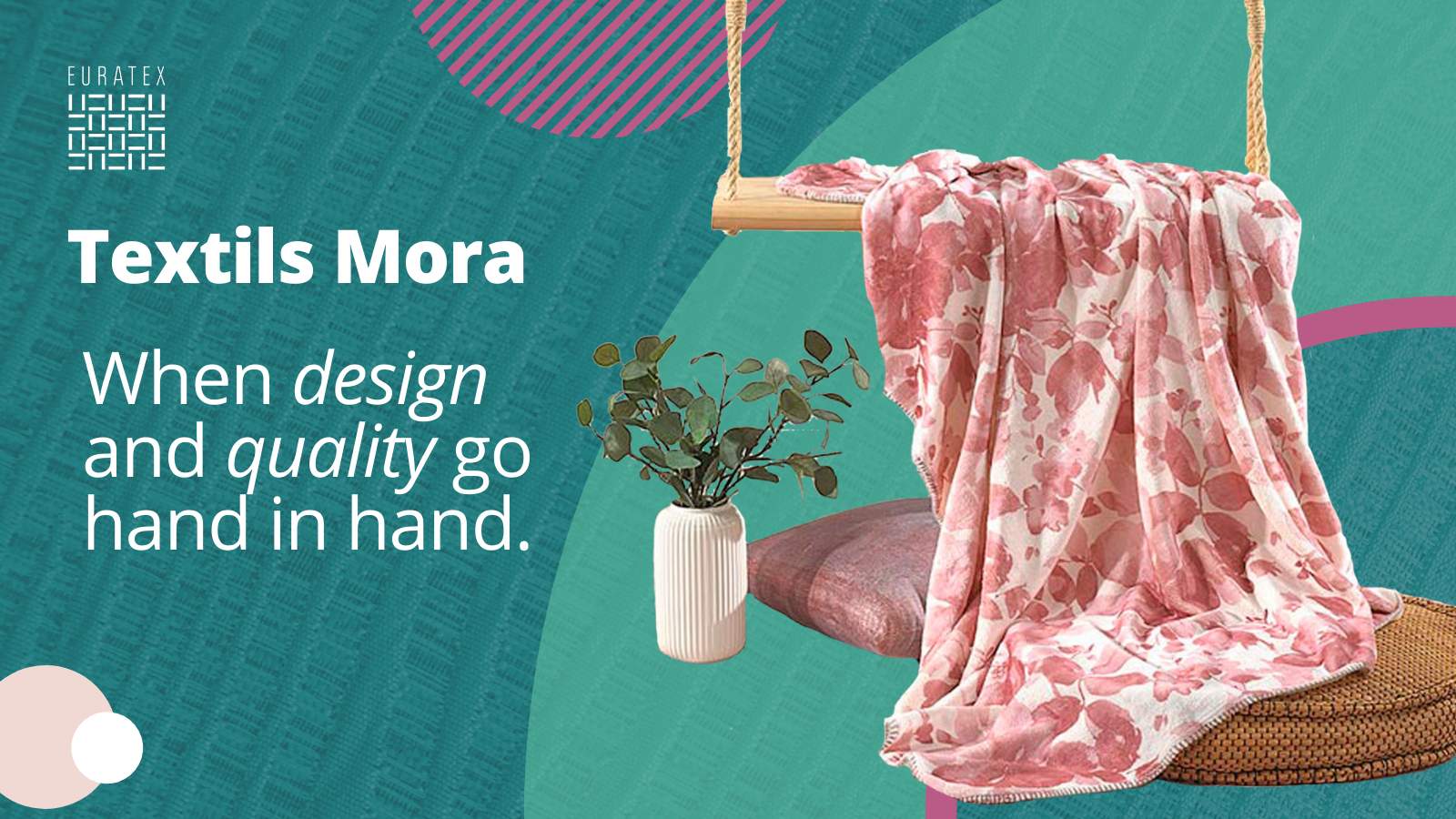 Spain, 2 September 2021 – What makes a textile company innovative and competitive? Textils Mora agreed to unveil its recipe for success and to share with us some insights on the difficulties faced in the last year.
Textils Mora is a company based in Spain, which has more than 80 years of history. Present in more than sixty countries, the company has based its growth on several fundamental aspects. In particular, in the last 10 years the company changed the way it produces, and now they are proud to be the first Spanish textile manufacturer to reduce CO2 emissions over five years running. They were also able to achieve:
A reduction in carbon footprint of 4,000 TN of CO2 since 2015
A reduction of 85% in waste which goes to landfill, equivalent to 287,000 kg. of reclaimed material.
Reductions in fuel consumption by 90% since 2013 using new electric solutions for their machines.
Reductions in water consumption of about 10% in the last two years. Their wastewater is 50% below the legal limits and they have optimised the consumption of chemical products added to water.
The development of a "PLASTIC FREE" policy to find new packaging solutions to reduce the consumption of plastic and therefore waste.
With such an innovative and green background, what challenges have you faced in the last years?
Over the years we have seen how national and European policies have encouraged the relocation of production. Spain has steadily been losing competitiveness and only through innovation and a policy of international branding, have we been able to maintain some production capacity.
However, our margins have been shrinking to the point where they affect our ability to invest in new machinery and new technologies. We are not playing on a level playing field, and what is required of us here in Europe as regards
labour and environmental issues is a far cry from the regulations in the countries we compete with.
In the wake of the COVID19 pandemic, which has highlighted our heavy dependence on other countries, particularly in continents such as Asia, it seems that industry will be better supported in the future. Industry creates jobs and only with stable employment can our highly valued welfare state be maintained. We are ready to seize this opportunity.
What do you predict for the T&C ecosystem in your country in the future?
Sustainability and the circular economy are here to stay. Consumers are becoming increasingly aware of this and industrialists are obliged to make better use of resources, both in terms of energy and the consumption of raw materials.
The days of our throw-away society are numbered and we must make every effort to ensure that the products we sell are increasingly reusable and recyclable. Over-consumption should be reduced and we should be consuming fewer products, but of a higher quality and with a longer life.
This is our commitment to the future and we will spare no effort to achieve it.
What three lessons have you learned over the years?
The first is flexibility. Faced with such a changing market, companies must be extremely flexible. It is no longer enough to plan for 3 or 4 years, what is important now is to have internal mechanisms that allow you to expand or contract according to market conditions.
The second is resilience. When things are going well, it is easy to manage a business, but when they go wrong, it can get very complicated. You have to hang in there through the tough times and be prepared to make the most of the next wave of growth that is sure to come. It is important to diversify your business to ensure a range of opportunities.
Last but not least is human capital. Having a good team of people who create and support the project is vital if we are to face the increasingly complex world we live in. The team must be nurtured and trained. The role of the HR department is becoming increasingly important in company management.
What advice would you have for companies considering the transition towards a different business model?
First of all, forget the past. Relationships with our customers and the way we do things have changed radically and what worked before may no longer be the true. The importance of technology in industry has increased exponentially, hence the importance of ongoing investment that allows us to remain at the forefront of our sector. Being technologically obsolete means being locked out of the market.
Long-term budgets are becoming increasingly ineffective because the speed of events influencing them makes them irrelevant before they have even been drawn up. It is important to review and update budgets as the need arises. We need to be prepared, so that tough times affect us as little as possible, and to be flexible enough to adapt to change quickly.
To know more about Textils Mora, check their Facebook and Instagram accounts.